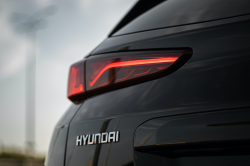 — Hyundai "thermal incidents" from electric transmission oil pumps have caused a recall of more than 63,000 vehicles that should be parked outside until recall repairs are completed.
Hyundai has recalled the following vehicles at risk of smoke, burning odors and fires due to the transmission oil pumps and wire harnesses.
2023-2024 Hyundai Palisade
2023 Hyundai Tucson
2023 Hyundai Sonata
2023 Hyundai Elantra
2023 Hyundai Kona
The electronic controller for the idle stop & go oil pump assembly may contain damaged printed circuit boards that can cause the pump controller to overheat.
"A damaged capacitor on the pump controller PCB could impact electrical operation leading to heat damage to the electric oil pump circuit board, connector, and wiring harness. The heat damage at the pump increases the risk of a vehicle fire in addition to a potential Controller Area Network ("CAN") communication disruption for multiple onboard controllers." — Hyundai
In addition to burning odors and smoke, a driver may see illuminated dash warning lights.
About 11,000 of the Hyundai vehicles are recalled in Canada.
Hyundai oil pump recall letters will be mailed September 25, 2023, and dealers will replace the electric oil pump controllers and front harnesses if necessary.
Hyundai owners with questions should call 855-371-9460 and ask about oil pump recall number 246.