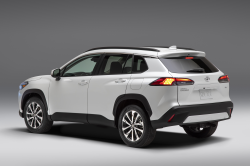 — A Toyota Corolla Cross recall involves nearly 110,000 non-hybrid SUVs, and Toyota warns not to allow anyone to sit in the passenger seats until the Corolla Cross SUVs are repaired.
The recalled 2022-2023 Corolla Cross SUVs have passenger airbags that may not deploy properly.
Toyota says the Corolla Cross vehicles may have manufacturing errors in the instrument panels where the airbags are located.
The vehicles are equipped with an instrument panels that contain airbags at the right front passenger's seating positions.
Each instrument panel is has a perforation that will open during front passenger airbag deployment. However, there is a possibility the instrument panel was built without the perforation.
About 96,000 Toyota Corolla Cross SUVs are recalled in the U.S., and more than 13,800 are recalled in Canada.
Toyota expects to mail Corolla Cross recall letters July 10, 2023.
Toyota dealers will inspect and possibly replace the Corolla Cross instrument panels.
Again, please do not allow anyone to sit in the front passenger seat until a dealer has inspected the vehicle.
Toyota Corolla Cross owners may call 800-331-4331. Toyota's number for this recall is 23TB04/23TA04.