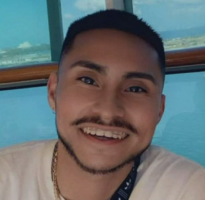 — A 23-year-old man is dead after a stolen 2015 Hyundai Santa Fe driven by a 15-year-old ran a red light and crashed into a 2016 Toyota 4Runner driven by Christian Romero (pictured).
The Orange County, Florida crash occurred at about 4:30 a.m. on April 23, 2023, as the stolen Hyundai Santa Fe was speeding and ran a red light at Dean Road and State Road 408.
Christian Romero was driving the Toyota 4Runner on State Road 408 to exit onto Dean Road when the stolen Hyundai Santa Fe slammed into the 4Runner and sent it into the median where it overturned.
Romero was killed in the crash, while six teenagers in the stolen Hyundai Santa Fe were taken to hospitals with non-life-threatening injuries.
The stolen Hyundai Santa Fe was driven by a 15-year-old male, and the other Santa Fe occupants included three teen girls, ages 13, 14 and 15, and two teen boys, ages 13 and 16.
The Florida Highway Patrol hasn't released additional details about the crash and if it's related to teenage criminals across the country who watch online videos that "challenge" the teens to steal Hyundai and Kia vehicles and then post their own videos of the thefts.
However, the Florida Hyundai Santa Fe crash fits the profile.
In other Hyundai and Kia theft incidents, wrongful death lawsuits blame Hyundai and Kia because teenage criminals broke into and stole the vehicles.
CarComplaints.com will update this page when additional information is available about the Christian Romero crash.