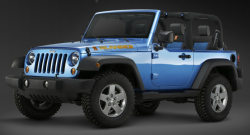 — Add another recall to Chrysler's ever-growing list of problems with their 2010 Jeep Wrangler. The National Highway Traffic Safety Administration announced that close to 68,000 Wrangler's could start a campfire if you're out four-wheeling.
It seems that certain 2010 model year Wranglers with an automatic transmission can collect dirt and debris around the transmission skid plate. The problem with that is the skid plate is near the catalytic converter, so having debris near that is like a putting a tissue next to a burning match.
Dealers will replace the skid plate with something called a skid bar.
This is the fifth recall for the 2010 Jeep Wrangler in the last two years, so you're probably familiar with the recall routine.
The skid plate replacement is free, but too bad Chrysler doesn't reimburse you for the time it takes to make the appointment and wait for your vehicle to be fixed.
Let Chrysler know how you feel when you call them at 800-853-1403.