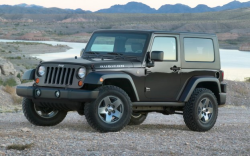 — Two California Democrats have asked Chrysler to begin a customer outreach campaign about what the legislators call the "Jeep death wobble."
House Democrats Anna Eshoo and Henry Waxman told Chrysler in a letter that the outreach campaign should inform Jeep owners of the risk, how to fix and prevent the problem, and how customers can stop the wobble if it happens.
The letter also said Chrysler needed to do a better job of training employees and dealers about the problem.
The "death wobble" is a creative term coined by Jeep owners that describes a situation when the front axle begins violently oscillating, causing the car to shake (or wobble) in a manner which makes the vehicle hard to control.