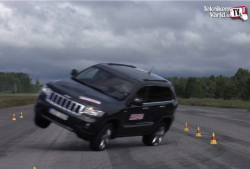 — The Jeep Grand Cherokee allegedly has "moose problems."
That's according to Swedish magazine Teknikens Värld, who said the 2012 Grand Cherokee Overland failed their "moose test," designed to simulate avoiding an object in the road. Teknikens Värld said they loaded the vehicle to Swedish specifications and sent the vehicle on its way.
Video of the test shows the Grand Cherokee going up on two wheels at less than 40 miles per hour, a big no-no in this type of test.
Teknikens Värld released a statement that said the vehicle was dangerous and couldn't be trusted to handle this type of maneuver. Chrysler called foul and said the vehicle was overloaded by at least 110 pounds, a claim Teknikens Värld vehemently denied.
Following the Swedish test, German magazine Auto Motor und Sport performed the same test and used the same Grand Cherokee Overland. The German test followed International Standards Organization rules and the same Grand Cherokee passed the moose test.
Chrsyler Responds
Chrysler fired back at the Swedish magazine in a post on the Chrysler website saying the vehicle was definitely "set up," which, according to Chrysler, "is nothing short of criminal."
The statement pointed out that in an interview, the web editor of the Swedish magazine couldn't remember exactly the vehicle load weight. Further, Chrysler said the test-driver admitted the vehicle was overloaded, once again, a claim denied by the Swedish testers.
Chrysler Group - who recently blamed aftermarket products for the Jeep "death wobble" - sent engineers to Sweden to witness the magazine again perform the maneuver, a test that Chrysler said "is not used by any regulatory agency to establish safety ratings." Chrysler engineers verified the vehicle was loaded correctly and this time, the vehicle didn't stand on two wheels, even after numerous attempts.
"Expect the magazine to maintain its innocence, even though its editors have been caught red-handed. Because the truth doesn't just hurt. It stings," Chrysler said on their website.
What Do You Think Happened?
So who do you believe -- Chrysler or the magazine? Is the Grand Cherokee an unsafe vehicle to maneuver, or was the automaker setup all in the name of stirring up controversy? Chime in with a comment below.