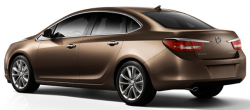 — General Motors is recalling model year 2012 Buick Verano, Chevrolet Cruze, and Chevrolet Sonic vehicles because the driver side frontal air bag might not deploy in a crash.
GM says a shorting bar may contact the air bag terminals. The airbag will fail if the bar and terminals are contacting each other at the moment of a crash.
GM hasn't announced when the recall will begin, so keep close watch for a letter. Your dealer will replace the steering wheel air bag coil but there is no indication how long the repair will take while you wait at the dealership.
You can contact GM at 800-521-7300 and refer to recall number 12261.