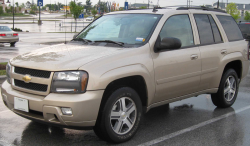 — After an in-depth investigation by the National Highway Traffic Safety Administration, General Motors is recalling certain model year 2006 Chevrolet Trailblazer EXT and GMC Envoy XL and 2006-2007 Chevrolet Trailblazer, GMC Envoy, Buick Rainier, SAAB 9-7x, and Isuzu Ascender vehicles.
The Office of Defects Investigation originally opened a preliminary evaluation in February, 2012, based on complaints that allege the driver-side door module had melted or burned in model year 2006-2007 Chevrolet Trailblazers.
The feds further expanded their investigation in June.
The government received 66 complaints about the module burning and 28 complaints say the door caught on fire. General Motors presented 167 reports and 698 warranty claims that related to the problem.
The recall, which affects almost 250,000 vehicles, applies to vehicles originally sold or currently registered in Connecticut, Delaware, Illinois, Indiana, Iowa, Maine, Maryland, Massachusetts, Michigan, Minnesota, Missouri, New Hampshire, New Jersey, New York, Ohio, Pennsylvania, Rhode Island, Vermont, West Virginia, Wisconsin, and the District of Columbia.
According to government documents, fluid may enter the driver's door module, causing corrosion that could result in a short in the circuit board.
A short may cause the power door lock and power window switches to function only when they want, or to completely stop working.
The short may also cause overheating, which could melt components of the door module, producing odor, smoke, or a fire.
Currently GM has no idea when the recall will begin and they haven't offered a solution to the problem.
Buick, Chevrolet, and GMC owners will be notified by GM. Buick owners may contact the owner center at 1-800-521-7300, Chevrolet owners at 1-866-694-6546, and GMC owners at 1-866-996-9463.
Isuzu owners will be notified by Isuzu Motors. Owners may contact Isuzu customer service at 1-800-255-6727.
SAAB owners will be notified by SAAB Cars North America and for inquiries, owners may call SAAB customer service at 1-855-880-0808.
GM's campaign number is 12180.