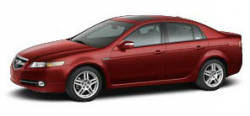 — For the second time in four years, Honda is recalling model-year 2007-2008 Acura TL sedans because the power-steering hose could leak and possibly catch the car on fire. The recall involves 52,615 vehicles in the U.S. and owners will be mailed official notification in June, 2012.
Honda says the power-steering hose can deteriorate and spring a leak, which could cause the loss of power-steering fluid, which means a loss of power-steering.
The fluid could also leak onto the catalytic converter and cause it to smoke or even catch the car on fire. Honda says they have no reports of that actually happening.
In addition to contacting customers by mail, in mid-June, owners of the TL will be able to determine if their vehicles require repair by going to www.recalls.acura.com or by calling 800-382-2238, and selecting option 4.
In February, 2008, the National Highway Traffic Safety Administration recalled over 273,000 Acura TL's for the exact same problem. That recall involved model-year 2004-2008 vehicles.
At the time, Honda blamed the problem on prolonged high temperatures under the hood which could cause a crack in the power-steering hose.
Looks like whatever Honda did to fix the problem didn't fix the problem.