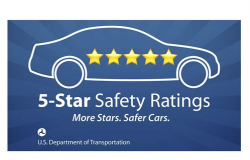 — The National Highway Traffic Safety Administration (NHTSA) has updated their advertising guidelines after electric automaker Tesla jumped through hoops to announce a safety rating of 5.4 stars out of a possible 5 stars.
In August, NHTSA published a press release warning automakers and advertising agencies about giving the public inaccurate or misleading stats concerning the 5-star crash-test rating system.
The press release was in response to a claim by Tesla that their Model S received an "overall vehicle score" of 5.4 stars. Federal safety regulators weren't too happy with the fancy math Tesla used to promote the Model S, a car currently under federal investigation after roadway fires.
In a clear shot at Tesla, NHTSA said the updated advertising guidelines now explicitly state that ratings are always whole numbers and that NHTSA does not award a rating higher than 5 stars. That means no more ratings with a decimal point.
The government warns that advertisers or automakers are misleading the public to promote a rating above 5 stars . Additionally, failure to follow the guidelines could earn the car a "Buyer Alert" warning and removal from the ratings program.
"Our 5-Star Safety Ratings Program serves as one of the most trusted and reliable resources to help the driving public select vehicles based on unbiased safety ratings,"said NHTSA Administrator David Strickland. "That's why today we released updated guidelines aimed at ensuring consumers receive accurate and consistent information regarding vehicle safety ratings."