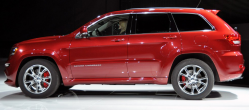 — Last July, CarComplaints.com reported that complaints of engine fires in the 2012 Jeep Grand Cherokee lead the National Highway Traffic Safety Administration (NHTSA) to open an investigation into the alleged problem. Reports indicated a possible problem with the power steering hose that could leak fluid and lead to an engine fire.
According to safety regulators, a pattern of problems was seen in field reports submitted by Chrysler in its early warning reporting documents. Additionally, the government received two reports that alleged severe engine fires that destroyed two vehicles.
However, safety regulators have cleared Chrysler after tracing the problem to a defect inside the power steering hose, a defect that authorities believe did not cause any fires.
Complaint analysis identified five reports alleging engine compartment fires that resulted from other or unknown causes, including one attributed to overheated transmission fluid. Two fires of unknown cause involved vehicles with a different hose system.
According to NHTSA, there have been no reports of loss of steering control, crashes or injuries as result of the problem. Additionally, all affected vehicles that may have experienced a hose blow-off condition were repaired under warranty at no cost to the owner.
Further, safety regulators say the improvements put in place by the hose manufacturer has eliminated the likelihood of power steering hose blow offs.
NHTSA says there is no indication of loss of power or unreasonable safety risk associated with the alleged defect in the subject vehicles and the investigation is now closed.