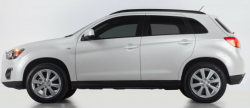 — For the fourth time in three months, Mitsubishi has recalled their Outlander Sport, this time due to suspension problems.
The recall affects only 305 model year 2013 vehicles, but the same vehicle recalled four times in three months? Not a good sign.
Mitsubishi says the stabilizer link on the front strut was not welded properly. This could cause the link to detach and cause damage to the tire or brake hose.
If damage occurs to the brake hose, brake fluid could easily leak and cause serious problems trying to stop the Outlander Sport.
Mitsubishi hasn't released information when the recall will begin. Once the recall begins, dealers will inspect and if necessary, replace the front left strut assembly.
Owners who want answers as to why these vehicles keep being recalled can contact Mitsubishi at 800-222-0037 and refer to recall number SR-13-008.