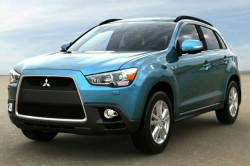 — Be careful if you're driving behind a 2011 Mitsubishi Outlander Sport. The National Highway Traffic Safety Administration announced a recall of 3,181 of those vehicles because the glass roof could pop out and go airborne.
Mitsubishi says the panoramic glass might have been installed without primer. The primer should have been applied before the adhesive and if it wasn't, the glass could easily detach from the roof.
Not a good thing when the vehicle is traveling 65 mph down the road.
Mitsubishi hasn't announced when the recall will begin, but once everything is in place, dealers will inspect the glass to see if primer was installed. The glass will be reinstalled if the dealer does not see the primer.
Owners can call 888-648-7820 and reference recall number SR-13-007.