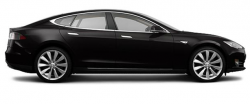 — The National Highway Traffic Safety Administration (NHTSA) has opened an investigation into the 2013 Tesla Model S electric car, the vehicle Tesla says is the safest car in America.
Two recent car fires in the U.S. have gained the attention of NHTSA, which wants to know if there might be a problem with the undercarriage of the Model S. Both incidents involved metallic objects in the road that caused damage to the plate that covers the batteries.
The monitoring system worked as it was meant to work, allowing time for each driver to pull the car off the road and exit the vehicle before the fire spread.
There have been three recent identical incidents, but one was in Mexico and outside the reach of NHTSA authority.
For their part, Tesla says they asked NHTSA to open the investigation, a bizarre thing for an automaker to do. However, it won't be the first strange thing to happen between Tesla and U.S. safety regulators.
About three months ago, Tesla was busy bragging how the Model S was not only the "safest car in America" but had also received an overall "Vehicle Safety Score" of 5.4 stars in crash tests performed by the federal government.
Considering the highest level that can be reached is 5 stars, NHTSA was quick to publish a press release that said, in part:
" NHTSA does not rate vehicles beyond 5 stars and does not rank or order vehicles within the star rating categories. In addition, the agency has guidelines in place for manufacturers and advertising agencies to follow to ensure that accurate and consistent information is conveyed to the public."
CarComplaints.com will keep you posted on the outcome of the investigation. It's possible the investigation could be expanded, a recall could be ordered, or safety regulators could find there is no safety defect in the Model S.