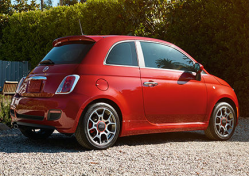 — One of the greatest safety inventions since the dawn of the automobile is the air bag, first used in the steering wheel to protect a driver in a frontal crash. Now those same air bags can be found tucked away in numerous locations inside newer cars.
Those air bags are touchy and the software used to deploy air bags can be more tricky. Even not wearing a seat belt can have an effect on air bag deployment, as Chrysler learned in 29,500 model year 2014 and 2015 Fiat 500L cars.
Chrysler is recalling those cars because an air bag used to protect a driver's knees in a crash could deploy out of position if the driver isn't wearing a seat belt. Chrysler discovered the issue during routine testing and said in a statement that all occupants should wear seat belts. Other than that, Chrysler hasn't released additional details.
The automaker isn't aware of any injuries related to the defect and hasn't released information about when the recall will begin.
If you own a 2014-2015 Fiat 500L, watch your mail or call Chrysler at 800-853-1403.