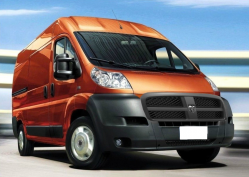 — Chrysler is recalling almost 10,000 full-size vans because the accelerator pedals could stick in the wide-open position. The affected van is the 2014 Ram ProMaster, a van very similar to the Fiat Ducato, although Fiat says they have had no reported problems with the Ducato.
Chrysler discovered the problem during testing when a driver applied downward force on the pedal at an angle. Chrysler engineers found a 3-inch "stop" device didn't work, even when force was applied to the accelerator pedal at an angle.
Technically, the van should be stoppable even with a stuck gas pedal because the van has a brake-throttle override system. The override system means depressing the brake pedal will stop the vehicle even if the gas pedal is stuck.
Chrysler will fix the problem by installing a stronger pedal stop that improves the way the pedal feels at wide-open throttle. The National Highway Traffic Safety Administration says the 2014 Ram ProMaster recall is expected to begin in March, 2014.
With questions or concerns, contact Chrysler at 800-853-1403.