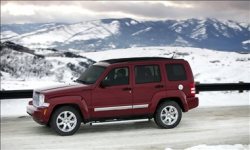 — The National Highway Traffic Safety Administration (NHTSA) has closed its investigation into Jeep Liberty door fires after finding the problem is too small to warrant a recall.
NHTSA opened the 2012 Jeep Liberty investigation in October, 2013, after complaints alleged a problem with the driver's side power master window switch. NHTSA first identified two reports of door fires near the window switch of model year 2012 Jeep Liberty vehicles.
Safety regulators also found the same switch was used in 425,000 vehicles, including the 2011 Dodge Nitro, 2011-2012 Jeep Liberty, 2011 Chrysler Town & Country and the 2011 Dodge Caravan.
Chrysler and NHTSA soon learned one of the fire complaints wasn't related to the window switch and a search of complaints found the overall failure rate for the power window switch appeared to be low. Further, NHTSA said the risk of fire was even lower and no defect trend could be seen.
NHTSA says the closing of the investigation doesn't necessarily mean a safety defect doesn't exist, but currently there isn't enough evidence to order a recall.