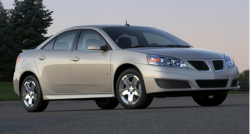 — General Motors wants customers to know that "safety is at the heart of how GM designs and produces vehicles," a statement it released at the same time GM announced another recall of about 2.7 million vehicles.
However, GM admits hundreds of complaints poured in over the course of years--as well as numerous reports of accidents and injuries--before the automaker took action and ordered these recalls.
Chevrolet Malibu, Chevrolet Malibu Maxx, Pontiac G6, Saturn Aura / Wiring Harness
The largest recall involves about 2,400,000 model year 2004-2012 Chevrolet Malibu, 2004-2007 Chevrolet Malibu Maxx, 2005-2010 Pontiac G6 and 2007-2010 Saturn Auras. GM said it is aware of "several hundred" complaints, 13 crashes, and two injuries because of corrosion in a wiring harness.
The National Highway Traffic Safety Administration (NHTSA) expanded an ongoing investigation in June, 2013, that focused on brake problems in model year 2005-2008 Pontiac G6 cars. NHTSA now says increased resistance in the body control module connection can result in "voltage fluctuations in the brake apply sensor circuit."
All kinds of problems have occurred due to the defect, including brake lights failing when the brake pedal is applied, or brake lights that come on even though the brake pedal isn't touched.
While all that could be happening with the brake lights, other important features of the car could be disabled, including cruise control, traction control, electronic stability control and panic braking assist operation.
GM has known of the problem for years because it issued a technical service bulletin in 2008, but recalled only a small number of model year 2005 vehicles in 2009.
GM hasn't said when the recall will begin. Owners can contact Chevy at 800-222-1020, Pontiac at 800-762-2737, or Saturn at 800-553-6000. GM's number for this recall is 13036.
Chevy Corvette / Headlights
GM says it has received "several hundred" complaints about failing low-beam headlights on model year 2005-2013 Chevy Corvettes. Almost 112,000 Corvettes are involved, with GM saying model years 2005-2007 will be recalled, and model years 2008-2013 will be covered under a "customer satisfaction program."
The National Highway Traffic Safety Administration opened an initial investigation into the problem in May, 2013, then expanded its investigation in August, 2013.
GM says when the engine is warm, the electrical center housing under the hood could expand and cause the low-beam headlight relay control circuit wire to bend and break. The high-beam lights will keep working, but the low-beam lights will fail.
The automaker hasn't released a recall schedule, but affected owners can contact Chevrolet at 800-222-1020. GM's Corvette recall number is 13146.
Note: Model year 2008-2013 Chevrolet Corvettes will be covered under "customer satisfaction program" number 14203.
Cadillac CTS / Windshield Wipers
GM will recall 19,225 Cadillac CTS cars from the 2013-2014 model year because the windshield wipers could fail. The condition is very specific because the defect occurs only with the wipers blocked by ice or snow during a jump start of the car. GM dealers will need to replace the wiper module.
The Cadillac recall is expected to begin about May 30, 2014. GM dealers will update the electronic brake control module software.
Affected Cadillac CTS owners can contact GM at 800-222-1020 and reference recall number 14201.
Chevy Silverado, GMC Sierra, Chevy Tahoe / Tie Rods
GM is warning owners to park their 2014 Chevy Silverado, GMC Sierra, and 2015 Chevy Tahoes because of tie-rod problems. The trucks and SUVs should not be driven until they are repaired by GM. Driving the vehicles is dangerous because the tie rods can separate from the steering rack without warning. All steering control will be lost if that happens.
GM says the tie-rod threaded attachment might not have been tightened to the steering gear rack. GM is telling owners to use a flatbed tow truck and get the recalled vehicles to a dealer.
The recall is currently underway and has dealers inspecting the inner tie rods to make sure they are correctly tightened, and also replacing the steering gear if required.
Owners should contact Chevy at 800-222-1020, or 800-462-8782 for GMC. GM's number for this recall is 14204.
All of this comes at the same time GM recalled 140,000 model year 2014 Chevy Malibu mid-size sedans because of brake problems.
That recall occurred about a week after GM recalled those same model year Malibus because GM installed the rear brake rotors on the front of the cars.
CarComplaints.com has complaints about all the vehicles named in the GM recalls. Click a model below to read what owners report about their cars, trucks, and SUVs.