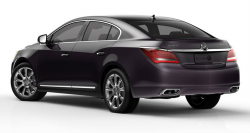 — It's a wacky world when forward is backward and back is front. That seems to be the world General Motors currently lives as the automaker announced another recall, this time because rear brake rotors were installed on front brake systems.
The recalled cars are 8,590 model year 2014 Buick LaCrosse and Chevrolet Malibu sedans manufactured January, 29 through March 31, 2014.
GM says the brakes will still work, at least until the front rotors start wearing out early. When a driver hits the brakes the weight of the car is shifted forward, which is why front rotors are usually more heavy-duty than rear rotors. In rare circumstances, the reversed rotors could cause the front brake assembly to fall apart and cause complete brake failure.
GM doesn't know of that happening and no accidents or injuries have been reported.
The National Highway Traffic Safety Administration hasn't said when the recall will begin. GM dealers will inspect the brake system and if needed, replace the front rotors and brake pads.
With questions or concerns, Buick LaCrosse owners can call 800-521-7300, Chevy Malibu owners call 866-694-6546.