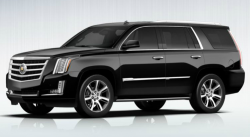 — General Motors is recalling over 1,000 Cadillac Escalades because of air bag problems, but at least it's not related to exploding air bags that have infected millions of vehicles.
GM said the recall involves the 2015 Cadillac Escalade and Escalade ESV made with a passenger instrument panel top cover with the wrong spacer fabric. The incorrect spacer fabric can cause problems with the adhesion between the spacer fabric and the vinyl surface. If the adhesion isn't strong enough the passenger air bag can have problems deploying correctly in a crash.
GM discovered the defect when a manufacturing plant saw instrument panel top covers with wrinkles and bubbles on the surface. Testing was conducted on air bags using different air bag inflators (high- and low-output) at normal temperatures. The recall was ordered because engineers found the air bags can fail to exit the instrument panel correctly.
GM hasn't released a schedule of when the recall will begin. Cadillac dealers will replace the instrument panel top cover to make sure the passenger air bag deploys properly.
Owners of the 2015 Cadillac Escalade and Escalade ESV cars can contact Cadillac customer service at 800-458-8006 and give them recall number 14686.