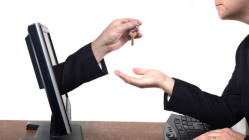 — Hackers are known for breaking into all types of computerized toys. That's what hackers do. The common desktop and laptop computer might be the most popular target, but all that is starting to change as our vehicles become computers on wheels.
Having your computer hacked can seriously ruin your day, but having your car hacked while driving could seriously ruin your life.
With the U.S. government wanting cars connected to talk to each other and to surrounding infrastructure, hackers are beginning to focus their attention on controlling our cars.
From the ability to unlock doors to controlling driver steering input, guessing a single password could cause today's cars to turn into remote-controlled death traps. The playing field is even more wide with the typical use of mobile applications and wireless applications for cell phones and GPS.
If there's any car today that's considered the gold-standard of computerized cars, it's the Tesla Model S. The electric car is known for it's sturdy construction and its ability to receive updates remotely. Tesla even conducted a "recall" by simply sending an "over-the-air" electronic software update to each car, something unheard of with other vehicles.
That technology is the focus of a contest being held at a hacker conference in China, with the reward of $10,000 going to anyone who can hack into the Model S. Unlike some hacker activities, the goal of the contest is to improve safety, not to cause harm. Hackers will try to expose any vulnerabilities in the Tesla and then turn the results over to Tesla.
One team has already allegedly claimed success, although the official results haven't been announced. A Chinese internet security company called Qihoo is claiming it hacked the Model S and controlled the headlights, moonroof, horn and door locks, all from a remote location.
If the reports are accurate, it won't be the the first time hackers have invaded the Tesla Model S. Based on findings presented at a hacker conference in Singapore, hackers easily unlocked the door of a Model S just by guessing a short password.