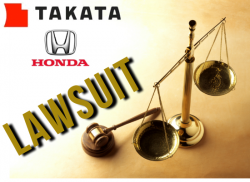 — A class-action lawsuit against Honda and Takata accuses the companies of knowing in 2004 that air bags in Honda vehicles could explode and send metal shrapnel throughout the vehicles.
The lawsuit alleges that in 2004, Honda and Takata were aware of an accident in Alabama where a driver of a Honda vehicle was severely injured by flying metal. Furthermore, the lawsuit claims both companies considered the exploding air bag an "anomaly" and ignored the real dangers.
The lawsuit accuses Takata of manufacturing defective air bags that "blew up like hand-grenades, sending lethal metal and plastic shrapnel into the vehicle cockpit and into the bodies of the drivers and passengers."
The plaintiffs claim Takata knew about the dangerous air bag defects but kept that information from federal regulators. The lawsuit also accuses Takata of making its technicians destroy evidence, including video and computer backups.
Honda is included in the lawsuit because five deaths have been linked to exploding Takata air bags in Honda vehicles. The National Highway Traffic Safety Administration opened an investigation of Honda after allegations the automaker intentionally withheld information about injuries and deaths from exploding Takata air bags.
The lawsuit has eight named plaintiffs from California, Florida, New Jersey, New York, Ohio, Virginia and Washington. However, anyone may be included in the lawsuit if they purchased or leased one of the following Honda vehicles with Takata air bags that have been subject to warnings or recalls:
2001-2007 Honda Accord
2001-2005 Honda Civic
2002-2006 Honda CR-V
2003-2011 Honda Element
2002-2004 Honda Odyssey
2003-2007 Honda Pilot
2006 Honda Ridgeline
2003-2006 Acura MDX
2002-2003 Acura TL/CL
2005 Acura RL
The Takata and Honda exploding air bags class-action lawsuit was filed in the U.S. District Court for the Central District of California.
The plaintiffs are represented by Hagens Berman.
Read complaints submitted to CarComplaints.com about the Honda vehicles named in the air bag lawsuit: