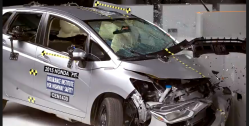 — In a sign of the seriousness of crash-test results performed by the Insurance Institute for Highway Safety, Honda will make alterations to the front bumpers of 12,000 model year 2015 Honda Fit subcompact cars.
IIHS is funded by insurance companies and known for performing crash tests that are more stringent than the U.S. government. One of those tests is the small overlap frontal crash test that replicates what happens when 25 percent of a vehicle's front end on the driver side hits a rigid barrier at 40 mph.
IIHS had tested the 2009-13 Fit and all that got Honda was a "poor" rating in the small overlap test. Then it was time to test the 2015 Honda Fit and a steel bar broke behind the plastic bumper on the passenger side. That sent the crash energy to the driver-side of the car and caused severe intrusion of the driver area. Furthermore, the steering column was moved upward.
Honda asked for a second small overlap test, but first the automaker wanted to make changes to the bumper. Honda engineers modified and upgraded the welds on the steel bumper bars and gave the IIHS test another shot.
The changes to the bumper paid off as the second test showed the Honda Fit absorbing the crash forces much better. Good enough that the Institute gave the newly redesigned 2015 Honda Fit an "acceptable" rating.
Additionally, that "acceptable" rating means the 2015 Fit can be listed as a "Top Safety Pick" award winner, a huge selling point for any car.
Honda won't issue an official recall but will contact about 12,000 Fit owners and inform them of the free bumper upgrade. Honda dealers will install the improved steel bar inside the front bumper.