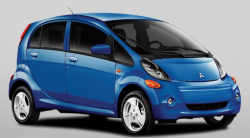 — For the second time in less than two years, Mitsubishi is recalling its all-electric i-MiEV because of problems with the brake vacuum pump.
The newest recall involves over 1,800 model year 2010-2014 i-MiEV electric cars because the brake vacuum pumps could completely stop working. However, the automaker isn't sure if the problem is caused by corrosion from road salt or a software error. The stopping distance will be increased if the brake vacuum pump fails.
The affected i-MiEVs were built from September 15, 2009, to March 25, 2014.
Mitsubishi hasn't released information about when the i-MiEV recall will begin. Dealers will inspect the vehicles and then decide if the brake vacuum pump should be replaced or if the brake vacuum pump controller needs the software updated. In some cases it's possible both repairs could be performed.
Affected owners of the recalled 2010-2014 i-MiEVs can always contact Mitsubishi at 888-648-7820 with the reference number SR-14-007.
In February 2013, Mitsubishi recalled the 2012 i-MiEV after finding the vacuum pump system could fail and cause problems with stopping the car. At that time, the automaker said a manufacturing error could cause a vane to fracture inside the brake vacuum pump.