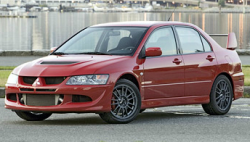 — Mitsubishi has joined the list of victims of the Takata defective air bag saga as the automaker announced a recall of model year 2004-2005 Lancer cars. Mitsubishi hasn't yet figured out how many cars are affected but says the cars are currently registered in Florida, Puerto Rico, Hawaii and the U.S. Virgin Islands.
As with with Honda, Toyota, Subaru, Mazda, Ford and BMW, the air bags could rupture in a crash and cause metal fragments to fly around the cabin. Air bag supplier Takata has already caused millions of cars to be recalled because a metal canister called the inflator can explode when the air bags deploy.
The National Highway Traffic Safety Administration says moisture in the air bags might be the culprit, hence some automakers have recalled vehicles only in areas with high absolute humidity. Other manufacturers have covered the bases by recalling the affected vehicles worldwide.
Mitsubishi says the front driver's air bag in the 2004-2005 Lancer is fine, but the passenger front air bag needs to be replaced. However, along with not knowing how many cars will be recalled, Mitsubishi has no idea when the recall will begin. Dealers will eventually replace the passenger air bag inflators in the affected Lancers.
If you own one of these cars currently registered in Florida, Puerto Rico, Hawaii or the U.S. Virgin Islands, contact Mitsubishi at 714-372-8000.
Are you having problems with your Mitsubishi car? Add your complaint here, about any vehicle.
You can also read complaints about the 2004 Mitsubishi Lancer, 2005 Mitsubishi Lancer, and other model years of Lancer cars.