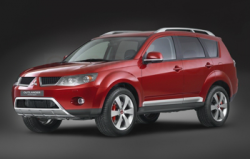 — Mitsubishi is recalling over 37,000 model year 2007-2009 Outlander SUVs to fix brake lights that don't work when the brakes are applied.
Mitsubishi says the brake light switch is defective because the electrical current might be interrupted because of silicone grease sticking to the brake light switch. Mitsubishi recalled Outlanders in 2008 for the same problem and the automaker says those SUVs won't need repairs this time.
The affected 2007-2009 Outlanders were manufactured December 15, 2006, to October 31, 2007, and April 16, 2008, to August 22, 2009.
Mitsubishi says it will reimburse any owner who has paid to have the switch replaced. An owner will need to show proof the repairs were made and related to failure of the brake lights.
Owners of 2007-2009 Mitsubishi Outlanders should have received a recall notice by now. Mitsubishi dealers will replace the brake light switch, but concerned owners can contact 888-648-7820 and give customer service reps the recall number of SR-14-010.
Read what owners say about their 2007 Mitsubishi Outlander, 2008 Mitsubishi Outlander and 2009 Mitsubishi Outlander.