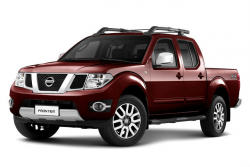 — Nissan is recalling about 13,500 model year 2012-2014 Frontier vehicles because they could catch on fire.
Nissan says a worker might have incorrectly installed a circuit breaker that could cause an electrical short and possibly a fire. The circuit breaker is connected to a wire harness that could touch a metal bolt on the A-pillar.
Nissan says the wire harness could face outward when it shouldn't. The bolt could damage the covering of the wire harness and cause a short. From there it wouldn't take much to cause a fire.
According to the National Highway Traffic Safety Administration, the recalled vehicles were manufactured from November 28, 2012, through December 17, 2013.
The recall should start in March, 2014. Nissan dealers will inspect the circuit breaker and harness and repair things if needed.
Frontier owners can contact Nissan at 800-647-7261.