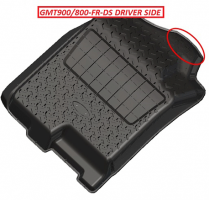 — General Motors just can't get away from the subject of recalls, even when the recalled equipment technically has nothing to do with GM. That's the case with 45,000 floor mats that fit model year 1999-2014 Chevy and GMC trucks and SUVs. The aftermarket floor mats (floor liners) were manufactured by a company called Omix Ada between November 1, 2009, to August 27, 2014.
Omix Ada says the floor mats can unintentionally move out of place and interfere with the gas pedal, leading to possible situations of unintended acceleration.
The plastic mats are colored either black, gray or tan and have caused at least three incidents of contact with gas pedals.
Omix Ada names the recalled liners as the Rugged Ridge All Terrain floor mats, Cabela's Custom-Fit floor mats, Line-X Truck Gear floor mats and Tread Lightly mats.
The recall should begin October 15, 2014. Omix Ada will furnish a floor mat with an anchor and hook system together with instructions on how to install the mats. Omix says most people will be able to handle the job in about 10 minutes, but Omix will direct a customer to a designated service center for installation if needed.
Owners of the recalled Omix Ada floor mats for Chevy and GMC vehicles can contact Omix at 844-642-7625 and refer to recall number RRmat 1-14.