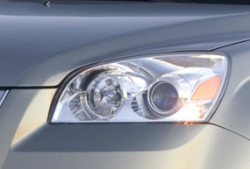 — After waiting over two years to respond, the National Highway Traffic Safety Administration (NHTSA) has denied a petition to officially investigate or recall 248,000 model year 2007-2009 Saturn Outlook and GMC Acadias for headlight failures.
NHTSA says it received 473 complaints about one or both headlights going out, with many owners saying the head lamp wiring harness sustained damage from overheating.
Out of those 473 complaints, NHTSA found:
69 percent claimed one headlight went out.
18 percent alleged both headlights went out but not at the same time.
9 percent said both headlights failed but NHTSA doesn't know if both lights failed together.
4 percent alleged both headlights failed at the same time.
The government denied the petition by saying even if one headlight goes out, owners should have enough time to get it repaired before the second headlight goes dark. NHTSA says the odds are against both headlights failing at the same time because the lights are connected in a parallel circuit and each circuit is fused. This means one headlight failure shouldn't cause the other light to fail.
Furthermore, NHTSA said over the past 25 years, recalls have been ordered only if both headlights fail at the same time. The government also said there have been no reports of accidents or injuries.
"Therefore, in view of the need to allocate and prioritize NHTSA's limited resources to best accomplish the agency's safety mission, the petition is denied." - NHTSA
CarComplaints.com has complaints about the Saturn Outlook and the GMC Acadia.