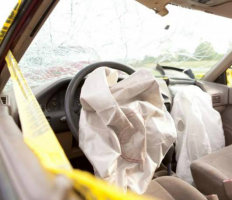 — A Takata air bag lawsuit is on the way over air bags exploding from faulty metal inflators that can rupture and kill occupants at the very second an air bag should protect occupants.
Hagens Berman, the law firm that took on Toyota over unintended acceleration, will file a class-action lawsuit against air bag manufacturer Takata after the recall of millions of vehicles.
The Takata air bag lawsuit will allege a cover-up caused millions of vehicles to be recalled by numerous automakers and caused numerous injuries. It's expected Hagens Berman will also file suit against Honda after four fatalities have allegedly been linked to exploding Takata air bags in Honda vehicles.
The National Highway Traffic Safety Administration recently warned owners of 7.8 million vehicles to quickly get their vehicles repaired as soon as recall notices arrive in the mail.
Hagens Berman is currently investigating Takata air bags in the vehicles listed below. If you own one of the vehicles, contact the law firm at Takata@hbsslaw.com or by calling 206-623-7292.
(Click a model to read complaints about that vehicle)
Acura
BMW
Chrysler
Dodge/Ram
Ford
Honda
Infiniti
Lexus
Mazda
Mitsubishi
Nissan
Pontiac
Saab
Subaru
Toyota
Have a car complaint to add? Add your complaint here, about any vehicle.