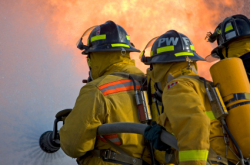 — A month after Tesla recalled almost 30,000 model year 2013 Model S cars for risk of fire, a Toronto homeowner says his Tesla caught fire in his garage.
Last month Tesla recalled the Model S because a fire could occur in the charger or wall outlet. That caused Tesla to argue what should be labeled a "recall" because all Tesla did to "fix" the problem was send an electronic software update and mail a replacement adapter.
Now come the questions of what caused the Toronto Tesla Model S to catch fire even though it was allegedly unplugged at the time.
Tesla says it has already "definitively determined" the fire did not originate in the battery or charging system. According to Tesla, the fire didn't touch the adapter, electrical receptacle, battery or charging system.
Tesla is currently investigating the cause of the fire but has not yet determined how it happened.
The National Highway Traffic Safety Administration released a statement concerning the Toronto Tesla fire:
"Since the incident occurred outside the territorial boundaries of the United States, the agency will be in contact with the manufacturer and others to gather the facts and take whatever action is warranted by the circumstances."
NHTSA is keeping a close eye on Tesla while the automaker is under U.S. federal investigation for two fires that occurred on roads. NHTSA also wasn't happy when Tesla tried to use "fancy math" to say they have the safest car in America.
Reports of the fire come after Tesla stock reached new heights trading above $200 per share. Tesla stock has soared over 43 percent in the last month alone.