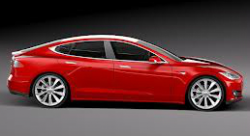 — Tesla is proof that electric cars are just as prone to recalls as any gas-powered vehicles. The automaker has announced a recall of almost 30,000 model year 2013 Model S electric cars because a fire could occur in the charger or wall outlet.
The cars are equipped with 240-volt universal mobile connector adapters used to charge the batteries. During charging, the adapter, cord, or wall outlet could overheat and catch fire.
Tesla will notify owners and provide an "over-the-air" software update that allows the charging system to detect any changes in the input power or connections to the vehicle. If a problem is detected, the charging system will automatically reduce the charging current by 25 percent.
Tesla owners can verify that they have received the updated software (version 5.8.4 or later) by viewing the vehicle's center information screen. Additionally, Tesla will mail owners a replacement adapter equipped with an internal thermal fuse, although there is no word as to when that will happen.
Owners can contact Tesla at 877-798-3752.
Tesla is already under federal investigation because of two fires that occurred on U.S roads, although those fires had nothing to do with the charger. Those fires were attributed to debris in the road that punctured the undercarriage and caused the batteries to go up in flames.