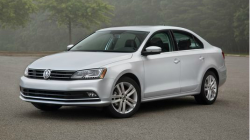 — Volkswagen is recalling about 63,000 popular cars for headlight problems and potential gas leaks that could cause fires.
VW Jetta, Passat, Golf, GTI, Beetle
The risk of an engine fire has caused Volkswagen to recall 38,000 cars, including the 2014-2015 Jetta, 2014-2015 Passat, 2015 Golf and GTI, and the 2014-2015 Beetle and Beetle Convertible.
VW says a sealing cap at the fuel rail can fail and cause gas to leak onto the engine. One small spark could mean a call to the fire department.
VW says the 2014-2015 Jettas were manufactured March 28, 2014, to November 24, 2014, the 2014-2015 Passats were built April 7, 2014, to November 18, 2014, the 2015 Golf and GTI cars were built July 1, 2014, to November 20, 2014, and the 2014-2015 Beetle and Beetle Convertibles were manufactured March 31, 2014, to November 27, 2014.
Volkswagen has not said when the recall will begin, but the automaker did say dealers will replace the fuel rails with new parts.
VW owners with questions can contact the automaker at 800-822-8987 and give customer service personnel recall number 24Bi.
VW Jetta
Over 25,000 VW Jettas have headlight problems that cause the low-beam headlights to fail when the high-beam headlights are turned on. VW blames the problem on the wrong software installed in the headlight control module.
Although a driver won't lose all the headlights, the lights won't be as bright as they should without the low-beam lights working.
Volkswagen says the recalled 2015 Jettas were built July 11, 2014, to November 13, 2014.
The recall will begin in January 2015 when dealers will update the headlight control module software.
Owners of the 2015 VW Jetta can contact Volkswagen customer service at 800-893-5298 and give them recall number 57F6.