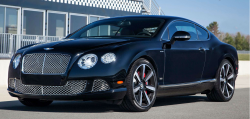 — Bentley Motors is in recall news, something that doesn't happen much with the luxury automaker. Bentley is recalling over 7,700 cars, some that will set back your bank account by $200,000.
The recalled Bentley cars include the 2012-2014 Continental GT, 2012-2015 Continental GTC and 2012-2013 Continental Flying Spur.
Bentley says a car fire caused the automaker to investigate the cause. It was determined a 12V battery cable has a bolted connection where it passes through the front bulkhead on the right hand side.
There is a possibility that this connection may be loose and if the battery is significantly discharged and the vehicle is being operated under increased electrical load, the connection could overheat. It was that overheating which caused the Bentley fire.
The recalled Bentley 2012-2014 Continental GT vehicles were manufactured February 1, 2011, to April 30, 2014. The 2012-2015 Continental GTC cars were built February 1, 2011, to June 30, 2014. The 2012-2013 Continental Flying Spur cars were produced March 31, 2011, to August 30, 2012, and the 2014 Flying Spurs were manufactured February 28, 2013, to April 28, 2014.
The recall will begin at some point in November 2015, when dealers will replace the battery cable securing nut.
Owners with questions should contact Bentley customer service at 800-777-6923 and give them recall number RE15/15.