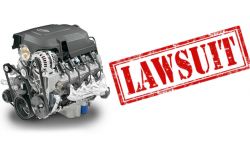 — General Motors has been sued over its Duramax diesel engines based on claims the engines don't perform as advertised. Kenneth Dzieciolowski and Anthony Acedo filed the Duramax diesel engine lawsuit alleging defects cause decreased fuel economy due to soot filtered through a diesel particulate filter exhaust system.
The lawsuit alleges when the trucks are traveling at slow speeds for extended periods of time, the driver will receive a message telling them to drive faster so the exhaust can get hotter and clean the particulate filter. To get around this alleged problem, the plaintiffs claim GM made changes to the Duramax engines, but that in turn caused decreased fuel economy.
Named in the legal complaint are the following trucks and vans:
2011-present Chevrolet Silverado 2500, 3500
2011-present GMC Sierra
2011-present Chevrolet Express
2011-present GMC Savana
The lawsuit alleges customers paid a premium price for trucks with a design defect that causes Duramax-equipped vehicles to be unsafe, decreases the usability and increases the costs of ownership.
The plaintiffs seek relief for the alleged false and misleading advertising of the performance of certain GMC and Chevrolet vehicles equipped with Duramax engines. Additionally, the plaintiffs want the defendants to re-design and retrofit all vehicles equipped with Duramax engines.
In addition to GM, Isuzu North America is named as a defendant because the automaker helped to create the DMAX brand with GM in 1998. The lawsuit currently includes those owners only in California and Michigan, but the Duramax engine lawsuit could later be expanded.
The lawsuit was originally filed in the Superior Court of California County of Los Angeles, but then moved to the U.S. District Court Central District of California Western Division. The case is Kenneth Dzieciolowski and Anthony Acedo vs. DMAX LTD., Isuzu North America Corporation, Isuzu Motors America, LLC, and General Motors.
The plaintiffs are represented by the Law Office of Shafiel A. Karim, Ridout Lyon + Ottoson, LLP, and The SKV Firm, PLC.
Read complaints from owners about the trucks and vans named in the Duramax diesel engine lawsuit: