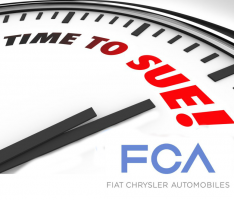 — It didn't take long for attorneys to file a lawsuit against Fiat Chrysler Automobiles (FCA US) after the automaker recalled 1.4 million vehicles to close security holes that can allow a hacker access to the vehicles.
The Fiat Chrysler consumer fraud lawsuit was filed by three customers who claim the recall announced by Chrysler doesn't do enough to fix the dangers. The lawsuit references a July 21, 2015, Wired.com article that describes how two security researchers hacked a Jeep Cherokee and took control on a busy highway.
The hack was possible because of the Harmon Kardon uConnect infotainment systems installed in the affected Jeeps and other vehicles. The plaintiffs claim the uConnect 3G systems in the vehicles should be physically disconnected from the controller area network bus. The CAN bus links together the electronics of the vehicle, including vital functions such as the braking system and transmission.
In addition to complaints about the CAN bus, the lawsuit alleges Fiat Chrysler was aware of the hacking risk 18 months before the recall and that's proof the automaker can't be trusted to protect consumers.
The plaintiffs claim Chrysler finally recalled the vehicles and updated the software only due to media exposure from the Wired article. In addition, the lawsuit alleges even with the software update offered by Chrysler, the vehicles aren't guaranteed to be safe from hackers and the automaker is guilty of giving customers a false sense of security.
The plaintiffs are demanding Chrysler reimburse customers for the loss of value of the vehicles caused by the hacking threat.
The Fiat Chrysler hacking lawsuit was filed in the U.S. District Court for the Southern District of Illinois - Flynn, et al. v. FCA US LLC, et al.
The plaintiffs are represented by the Law Office of Christopher Cueto, LTD.