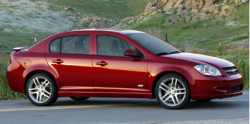 — General Motors is recalling about 73,000 cars to fix a problem with the airbags that can cause them to fail in a crash. The defect has allegedly caused one crash and injury in a 2010 Chevy Cobalt.
GM says about 60,000 model year 2010 Chevrolet Cobalts are recalled in the U.S. and another 13,000 Cobalts in Canada need repaired.
The airbag can fail due to the way a wiring harness is routed in the driver front door. GM says with the Cobalt driver's side window down, the window regulator can rub against the sensor wiring harness and damage its insulation.
A damaged wire can mean a short-circuit and block the driver-side roof rail airbag from deploying in a crash.
The recall is expected to begin August 26, 2015. Chevy dealers will inspect the sensor's wiring in the driver's door and make repairs as necessary.
Owners may contact Chevrolet customer service at 800-222-1020 and refer to recall number 15075.