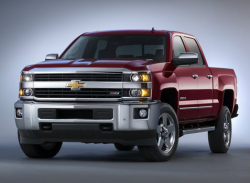 — General Motors is recalling over 1,800 compressed natural gas (CNG) trucks and vans because the labels have text the government says is too small. GM says the affected compressed natural gas vehicles are the 2013-2014 Chevrolet Silverado HD, Chevrolet Express, GMC Sierra HD and the 2013 GMC Savana.
GM learned of a problem in 2013 when a CNG modification supplier told the automaker the fuel label being fitted for future use was too large to fit on the fuel door. Then it was discovered the letters on the label were shorter than the required 4.76 mm height.
The recall is likely the result of safety regulator's new stringent stance against automakers because typically the government wouldn't have forced GM to conduct this recall.
When an automaker discovers a problem, the company must file a public report describing the safety-related defect or non-compliance with a federal motor vehicle safety standard. The automaker can then file a petition for exemption from the notice and remedy provisions because the non-compliance is inconsequential to safety.
This is clearly an issue that should have been granted an exemption based on the label text being smaller than normal. However, NHTSA denied GM's petition.
GM dealers or customers are instructed to remove the label inside the fuel door and install two new labels that have larger print. The labels will be mailed directly to registered owners along with installation instructions. Dealers will also install the labels if an owner needs assistance.
The automaker doesn't know when the labels will be mailed. Owners with questions should call Chevrolet customer service at 800-222-1020 or GMC customer service at 800-462-8782 and use recall number 13365.