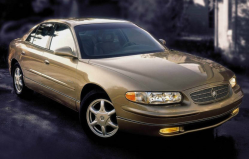 — General Motors is recalling over 1,200 cars that can catch on fire from a leaking valve cover gasket. GM names the recalled cars as the 2004 Buick Regal, 2003-2004 Chevrolet Impala and 2004 Chevrolet Monte Carlo.
According to documents filed with the National Highway Traffic Safety Administration, the cars have faulty valve cover gaskets that can leak engine oil which could drip onto the hot exhaust manifold and possibly cause a fire.
GM doesn't know when the recall will begin. Dealers will replace the spark plug wire retainer to redirect the dripping oil. However, cars that are equipped with 3.8L V-6 supercharged engines will also have the left valve cover gaskets replaced.
Owners of the Buick Regal can contact Buick customer service at 800-521-7300, or owners of the Chevy Impala and Chevy Monte Carlo can contact Chevrolet at 800-222-1020 and make reference to recall number 14574.
CarComplaints.com has complaints about the Buick Regal, Chevy Monte Carlo and Chevy Impala.