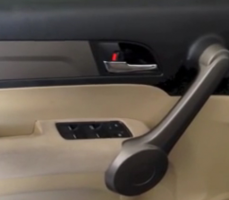 — A Honda CR-V door lock lawsuit has received final approval in federal court after Honda agreed to settle the case. The CR-V class-action lawsuit was originally filed in 2013 after an investigation into allegedly defective door lock systems installed in the small crossover SUVs.
The plaintiffs claim the 2007-2011 Honda CR-V door lock actuators cause the doors to fail to lock or unlock from the inside of the SUVs and from the outside by using the fobs.
The lawsuit alleges Honda knew about the defective locks but concealed that fact from customers. Further, the plaintiffs claim the locks typically fail after the expiration of the 3-year/36,000 mile warranty, which left CR-V owners sometimes paying as much as $400 to repair the door locks.
Although the lawsuit has been settled and received final approval by a federal judge, the settlement includes only the 2007-2008 Honda CR-V and the 2009 CR-Vs that fall within the following ranges of vehicle identification numbers.
2009 Honda CR-V (Two-wheel drive)
JHLxxxxxxxx000001 to JHLxxxxxxxxx007343
5J6xxxxxxxx000001 to 5J6xxxxxxxx003420
3CZxxxxxxxx700001 to 3CZxxxxxxxx701680
2009 Honda CR-V (All-wheel drive)
JHLxxxxxxxxx000001 to JHLxxxxxxxxx007327
5J6xxxxxxxx000001 to 5J6xxxxxxxx007526
3CZxxxxxxxx700001 to 3CZxxxxxxxx700240
Under terms of the settlement, affected CR-V owners are entitled to a free replacement of the driver's door lock actuator as long as it has not already been replaced. This applies even if the door lock is currently working properly. All work must be performed by an authorized Honda dealer.
Owners who have already paid to have door lock repairs can be reimbursed as long as they have proof of the repairs and use the proper claim form.
For all 2007-2008 and certain 2009 Honda CR-V owners, Honda is extending the warranty on all four door lock actuators.
All claim forms and documentation must be postmarked no later than July 6, 2015. Visit www.DoorLockSettlement.com for additional details.
The Honda CR-V door lock lawsuit was filed in the U.S. District Court for the District of New Jersey - Kevin Davitt, et al. v. America Honda Motor Co., Inc., et al.
The plaintiffs are represented by Chimicles & Tikellis.
Read what owners have told CarComplaints.com about Honda CR-V door lock problems.
Honda CR-V Door Lock Complaints: Model Year - 2007 / 2008 / 2009