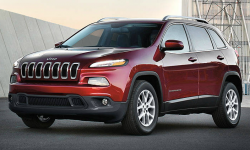 — Fiat Chrysler is recalling over 163,000 model year 2014-2015 Jeep Cherokee SUVs equipped with power liftgates.
The automaker says it was notified about a fire in an SUV and opened an investigation that determined water can enter the power liftgate control modules. The water can cause a short-circuit and create a fire hazard, and although the one incident is known, Chrysler is unaware of any accidents or injuries.
Over 99,000 of the Cherokees are in the U.S., 13,195 are in Canada, 2,406 are in Mexico and 48,966 of the SUVs are outside those regions.
Fiat Chrysler hasn't said when the recall will begin, but the automaker is warning owners of the 2014-2015 Jeep Cherokee to keep the cargo areas dry. It's important to monitor the cargo area if it rains or if the area is exposed to water from any source.
The automaker will inspect the liftgate control modules for water exposure and replace the modules. All affected Jeep Cherokees will have shields installed to protect the power liftgate control modules and related components from moisture.
If you own a 2014-2015 Jeep Cherokee equipped with a power liftgate and have questions or concerns, contact Fiat Chrysler at 800-853-1403.
Read owner-reported complaints about the Jeep Cherokee SUVs named in the power liftgate control module recall: