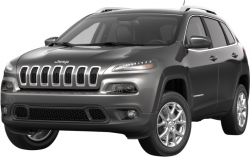 — Fiat Chrysler (FCA US) is recalling over 62,000 SUVs to upgrade airbag software to prevent the side airbags from deploying when you don't need them.
The recalled SUVs are 2014-2015 Jeep Cherokees with side-mounted and seat-mounted airbags that can deploy without a crash. Fiat Chrysler says software can mistakenly sense the SUVs are rolling over when they are not.
The automaker reports most of the airbag deployments occurred when the Jeeps were off-road and experiencing drastic changes of angles relative to the ground.
Fiat Chrysler didn't indicate how many false airbag deployments have occurred, but the automaker says it's unaware of any accidents or injuries related to the problem.
FCA US hasn't released additional details and the National Highway Traffic Safety Administration hasn't posted the recall documents to its website.
Owners of the 2014-2015 Jeep Cherokee who have questions about the airbag software recall should call FCA US at 800-853-1403.
This isn't the first time Fiat Chrysler has recalled Jeep Cherokees for this problem, with the total of recalled Cherokees currently over 230,000 in the U.S. alone. Counting recalled Jeep Cherokees outside the U.S., the total is almost 317,000.
CarComplaints.com will update this page when additional details are released.