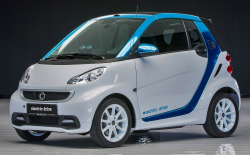 — Mercedes-Benz is recalling over 5,000 model year 2014-2015 smart fortwo coupes and convertibles, and 2014 fortwo coupe electric and fortwo convertible electric microcars. However, Mercedes says the number of recalled cars could be revised in the coming days.
The automaker opened an internal investigation in January 2015, when reports from outside the U.S. suggested steering gear mounting bolts were breaking while driving. The investigation determined at least one of two fixation bolts were breaking because of problems that occurred at the supplier. Specifically, the steering gear bolts on the front cross member might have been manufactured outside of production specifications.
Mercedes-Benz says the bolts can break if exposed to high loads in combination with vibrations, and it will never be a good scene if the bolts break while driving the tiny microcar.
Mercedes doesn't know when the fortwo recall will begin, but the National Highway Traffic Safety Administration says Mercedes-Benz dealers will replace the steering gear mounting bolts.
Owners of the recalled smart fortwo microcars can contact the automaker at 800-762-7887.