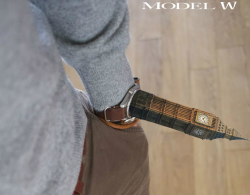 — Electric automaker Tesla got the attention of stock traders just minutes after the automaker announced a new product line called the Model W. Using the headline, "Announcing the Tesla Model W," the automaker saw its stock jump almost one percent with almost 400,000 shares traded in only a few minutes.
Some news organizations picked up the headline while Twitter helped push the "news." Apparently certain news organizations and many stock traders neglected to read any complete sentences from the Tesla press release. Or maybe didn't read anything at all.
Even checking the date might have helped -- April 1, 2015.
So what is this magical new Tesla product that caused such a rush in trading? We'll let Tesla explain that.
"As many in the media predicted, it's a watch. That's what the "W" stands for. This incredible new device from Tesla doesn't just tell the time, it also tells the date. Studies have shown the Model W will dramatically improve your health. If you work out."
If that wasn't enough to clearly (very clearly!) know this was an April Fool's joke, Tesla went on to say:
"Warning, current version requires wrist strength of an Orangutan."
Does the fact certain news organizations and many stock traders fell for this mean the end of common sense and humanity? Probably. It also proves how computer programs have a huge impact on daily life.
Those programs scan headlines without "reading" the text of the story, then that's followed by people who do the same and lower their IQ by sharing it on Twitter.
As for why Tesla would choose the Model W to be a giant watch designed like a church steeple, Apple's recent news of an upcoming computerized watch might have something to do with it. Then there are the recent rumors and speculation about Apple going into the self-driving electric car business.
But let's not speculate when we can turn to the same Tesla press release used by stock traders concerning the Model W.
"This is in no way a competitive response to what some other company is doing." - Tesla