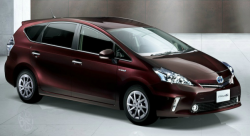 — About 5,000 Toyota Prius V hybrid cars are recalled because the passenger seat airbags can fail in a crash. Toyota says the affected cars are the 2014-2015 Prius V cars equipped with an occupant classification system which tells the airbag whether to deploy or not in a crash, all based on the weight of the person sitting in the seat.
Toyota says a manufacturing error caused the occupant classification systems to be incorrectly calibrated. The error could prevent deployment of the passenger airbag in a crash, although Toyota says it knows of no incidents where that happened.
The National Highway Traffic Safety Administration has not released information about the Prius V recall, but Toyota did say its dealers will recalibrate the occupant classification system.
Owners of the 2014-2015 Toyota Prius V hybrid cars can contact the automaker at 800-331-4331.