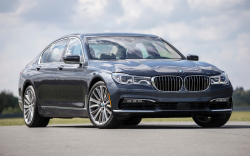 — BMW is recalling over 6,000 vehicles for airbag problems related to a recall of 5 million airbags by supplier Continental Automotive Systems.
Included in the recall is the 2016 BMW 740Li, 750Li and 750Lxi, all three manufactured July 1, 2015, to December 11, 2015.
The airbag problem is due to a supplier manufacturing error where small metallic particle residue can stick to the inside of the airbag control module.
BMW says when a car experiences excessive vibration or acceleration, one of those metallic particles can detach from the housing and make contact with the control module circuit board. Any contact like that can cause an electric short and cause the airbag control module to reset, triggering an airbag warning light. During this time the airbag control module is turned off and the airbags won't deploy in a crash.
The BMW recall should begin May 16, 2016. BMW dealers will replace the airbag control module to keep the airbags working when needed.
Owners of the 2016 BMW 740Li, 750Li and 750Lxi who have questions should contact the automaker at 800-525-7417.