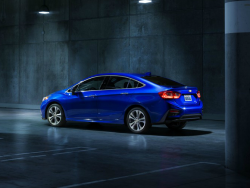 — Chevrolet Cruze turbo diesel cars are the focus of a lawsuit filed against General Motors that alleges the cars use emissions "defeat devices" similar to what Volkswagen has used for seven years.
The Chevy Cruze diesel lawsuit alleges owners were fooled into buying cars at premium prices that emit illegal levels of nitrogen oxides.
Attorneys say the plaintiffs tested the Cruze using a "Portable Emissions Measurement System" and found the cars don't meet emissions standards. The lawsuit says the standard is 70 mg/mile, but according to testing, the Cruze diesel cars averaged 174 mg/mile with a high of 557 mg/mile.
According to the lawsuit, if highway speeds near 70 mph are included, the average reading was 228 mg/mile, which is 2.5 to 8 times the federal standard.
When allegedly tested at temperatures below 50 degrees, the nitrogen oxide emissions were 689 mg/mile and it appeared the emissions control system stopped working or was significantly affected. For temps over 85 degrees, nitrogen oxide emission rates spiked as high as 1,051 mg/mile.
The plaintiffs claim GM placed greed and profits in front of thousands of owners who paid premium money for clean diesel cars that aren't clean.
The lawsuit references a recent German report that said GM's Opel model uses a device to know when a car is undergoing emissions testing, similar to what occurred with Volkswagen cars. Once the Opel is back to normal highway driving, the nitrogen oxide emissions increase to levels above standards.
GM marketed the Cruze to environmentally conscious consumers by using the selling point of the diesel cars emitting nitrogen oxides and other emissions below strict U.S. environmental standards. However, the lawsuit alleges tests conducted on Cruze diesel cars show GM's marketing as deceptive and false.
The Chevrolet Cruze diesel emissions lawsuit wants GM to buy the cars back from owners and provide reimbursement for vehicle owners for the premium they paid. Plaintiffs also want compensation based on any "fix" and extended warranties that will go unused. In addition, attorneys seek punitive damages for GM's alleged fraud.
The Chevy Cruze diesel emissions lawsuit was filed in the U.S. District Court for the Central District of California - Oscar Zamora, Brandon J. Stone, Jason Silveus, Jason Counts, Thomas Hayduk and Joshua Hurst, et al v. General Motors LLC.
The plaintiffs are represented by Hagens Berman Sobol Shapiro LLP.