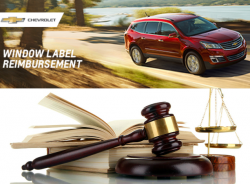 — A General Motors fuel economy class-action lawsuit alleges the 2016 Chevrolet Traverse, 2016 Buick Enclave and 2016 GMC Acadia were marketed and sold with false fuel economy ratings.
The GM lawsuit says consumers who purchased those SUVs believed the vehicles were EPA-rated at 17 miles per gallon in city driving and 24 miles per gallon on the highway, resulting in a combined rating of 19 mpg. However, the plaintiffs say the Traverse, Enclave and Acadia are in fact rated at 15 mpg in city driving and 22 mpg on the highway, resulting in a combined rating of 17 mpg.
In May 2016, General Motors started a compensation program for owners and lessees of 2016 Buick Enclave, Chevrolet Traverse and GMC Acadia SUVs because of overstating fuel economy ratings. GM admitted the SUVs were sold with overstated fuel economy of up to 2 miles per gallon after discovering the window stickers, also called Monroney labels, were incorrectly printed due to new emissions software.
The Environmental Protection Agency (EPA) said it was notified of the mistake and GM said it would offer customers debit cards or extended warranties. GM says a customer who purchased their SUV will be offered a debit card or an extended service protection plan of 48 months or 60,000 miles. A customer who leased their SUV will be offered a debit card only.
GM estimated payment ranges of $450 to $1,500 based on if the SUV is all-wheel-drive or two-wheel-drive. The payment amounts were calculated using EPA estimates of 15,000 miles of driving per year with gas prices at an average of $3 per gallon.
The fuel economy lawsuit alleges GM concealed the incorrect ratings and didn't inform customers the SUVs would suffer from decreased resale values due to the incorrect window stickers.
The plaintiffs claim as of April 2016, General Motors sold about 39,105 model year 2016 Chevrolet Traverse SUVs, 17,457 Buick Enclaves and 25,575 GMC Acadia SUVs affected by the incorrect fuel economy ratings.
Attorneys for the plaintiffs say they have concerns about the compensation program offered by GM, especially because GM is requiring its customers to release it from liability in order to receive compensation.
Lawyers also claim GM hasn't fully disclosed how the "unintentional mistake" happened or provided information on the value of the warranty option. In addition, the attorneys say GM only reimburses the customer for the increased fuel cost for 75,000 miles and assumes that gas will stay at or below $3.00 per gallon.
And finally, GM allegedly won't reimburse customers for the loss of resale value caused by the fuel economy ratings.
The plaintiffs are represented by McCuneWright LLP.