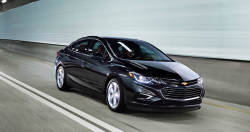 — General Motors is recalling about 33,000 Chevrolet Cruze cars because of missing identification codes that should be on the headlight assemblies.
The 2016 Chevy Cruze cars are required to have headlight assemblies marked with a three-digit identifier code used to properly aim the headlights. The cars violate federal safety standards without the codes clearly marked on the assemblies.
On May 25, 2016, the headlamp supplier said an error in its etching equipment programming caused the missing headlight lense identifier code.
GM says the headlights were aimed properly during assembly, but any future service to the headlight assembly may require the missing code to properly re-aim the headlights. Headlights that aren't aimed correctly not only affect the vision of the driver, but improperly aimed headlights can create a glare to oncoming drivers.
The recalled 2016 Cruze cars were built November 5, 2015, to May 26, 2016.
The automaker will mail customers and dealers new adhesive labels with the correct markings and include instructions for applying the labels to the headlight lenses. If a customer doesn't want the job, they can take the Cruze to a dealer for free assistance.
General Motors doesn't know when the Chevy Cruze recall will begin, but owners with questions can contact the automaker at 800-222-1020 and ask about recall number 50190.
CarComplaints.com has owner-reported complaints about the 2016 Chevrolet Cruze and other model years of Chevrolet Cruze cars.