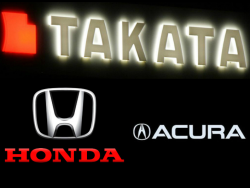 — Honda says it will recall an additional 21 million airbags worldwide to prevent more people from being injured or killed in Honda vehicles. For the U.S., this means an additional 4.5 million Honda vehicles that need their airbags repaired.
Honda more than any automaker has been hit hardest by Takata recalls and all reported deaths except one have occurred in Honda vehicles. At least 10 people in the U.S. have been confirmed killed by the exploding airbags, with nine of those fatalities attributed to Takata airbags in Honda vehicles. The remaining confirmed death in the U.S. was in a Ford Ranger.
The National Highway Traffic Safety Administration (NHTSA) says three independent investigations into exploding airbag inflators prove the metal canisters fracture during airbag deployment. The problem is caused by a combination of time, moisture and high temperatures that cause the explosive chemical inside the inflators to become unstable and degrade over time.
The chemical, ammonium nitrate, is used in the inflators as the propellant to deploy the airbags in a crash, but the chemical can burn too quickly and rupture the metal canister.
Exposure to humidity and changes in high temperatures alter the chemical compound, at least in airbags that don't have a drying agent called a desiccant, a separate chemical used to absorb moisture.
Honda says more than 4.5 million additional vehicles are recalled to replace passenger-side Takata airbag inflators at risk of exploding when they deploy.
More than any automaker, Honda has suffered the consequences of Takata's airbags as at least nine deaths in the U.S. occurred in Honda vehicles. Airbag-related deaths have also occurred in Honda vehicles outside the U.S.
These latest recalls are broken down by "zones" of the country.
Honda Vehicles Recalled in Zone A
2009-2011 Acura TSX
2011 TSX Wagon
2010-2011 Acura ZDX
2008-2011 Honda Accord
2010-2011 Accord Crosstour
2006-2011 Civic, Civic Hybrid and Civic GX
2007-2011 CR-V
2010-2011 FCX Clarity and Insight
2009-2011 Fit
2003-2006 Acura MDX
2005-2011 Acura RL
2005-2006 Honda CR-V
2003-2011 Element
2007-2008 Fit
2003-2008 Pilot
2002-2004 Odyssey
2006-2011 Ridgeline
Those Honda vehicles are recalled if originally sold or ever registered in the following "zone A" areas:
Alabama, California, Florida, Georgia, Hawaii, Louisiana, Mississippi, South Carolina, Texas, Puerto Rico, American Samoa, Guam, the Northern Mariana Islands (Saipan) and the U.S. Virgin Islands.
Honda Vehicles Recalled in Zone B
2008 Honda Accord
2006-2008 Civic, Civic Hybrid and Civic GX
2007-2008 CR-V
2003-2006 Acura MDX
2005-2008 Acura RL
2005-2006 Honda CR-V
2003-2008 Element
2007-2008 Fit
2003-2008 Pilot
2002-2004 Odyssey
2006-2008 Ridgeline
Zone B areas include Arizona, Arkansas, Delaware, the District of Columbia, Illinois, Indiana, Kansas, Kentucky, Maryland, Missouri, Nebraska, Nevada, New Jersey, New Mexico, North Carolina, Ohio, Oklahoma, Pennsylvania, Tennessee, Virginia and West Virginia.
Because Honda has been Takata's largest auto airbag customer, the automaker says unless included in zone A or zone B, additional vehicles will be recalled in specific states.
These vehicles include the 2002-2004 Honda Odyssey and 2003-2004 Acura MDX, Honda Element and Honda Pilot vehicles that were originally sold or registered in the following states.
Alaska, Colorado, Connecticut, Idaho, Iowa, Maine, Massachusetts, Michigan, Minnesota, Montana, New Hampshire, New York, North Dakota, Oregon, Rhode Island, South Dakota, Utah, Vermont, Washington, Wisconsin, and Wyoming.
Honda has been trying to keep up with the demand of airbag recalls and says replacement parts probably won't be available until Fall 2016. The automaker will mail interim notifications beginning June 27, 2016.
Owners of any of the vehicles may contact Honda at 888-234-2138 and use these recall numbers: KA4, KA5, KA6, and KA7.
(This page was updated on June 4, 2016, to include additional information from Honda)